What Makes A Car Title Lien-Free?
You've likely heard the term "lien-free title" when talking about loans, specifically title loans. Here's everything you need to know about a lien-free title and how it applies to a car title loan online.
A lien-free car title, also called a clear title, is a vehicle title that has no liens, legal claims, or judgments against it by a third party. If your car's title has a lien on it, you won't be eligible for a car title loan online until the lien has been removed.
There are a number of reasons why having a lien-free title is essential to getting a title loan. In this article, find out the importance of a lien-free title and how it relates to loans.
What Is A Lien On A Car Title?
To understand what something isn't, it's usually helpful to know what it is. A lien on your car title is a debt or a judgment that gives the lienholder the legal right to repossess the title if payment is not rendered in due time.
Liens on your car title can arise as a result of other title loans, loans used when purchasing the car, or fines issued by the state. Naturally, the term lien-free simply means that a car's title has no judgments or liens against it.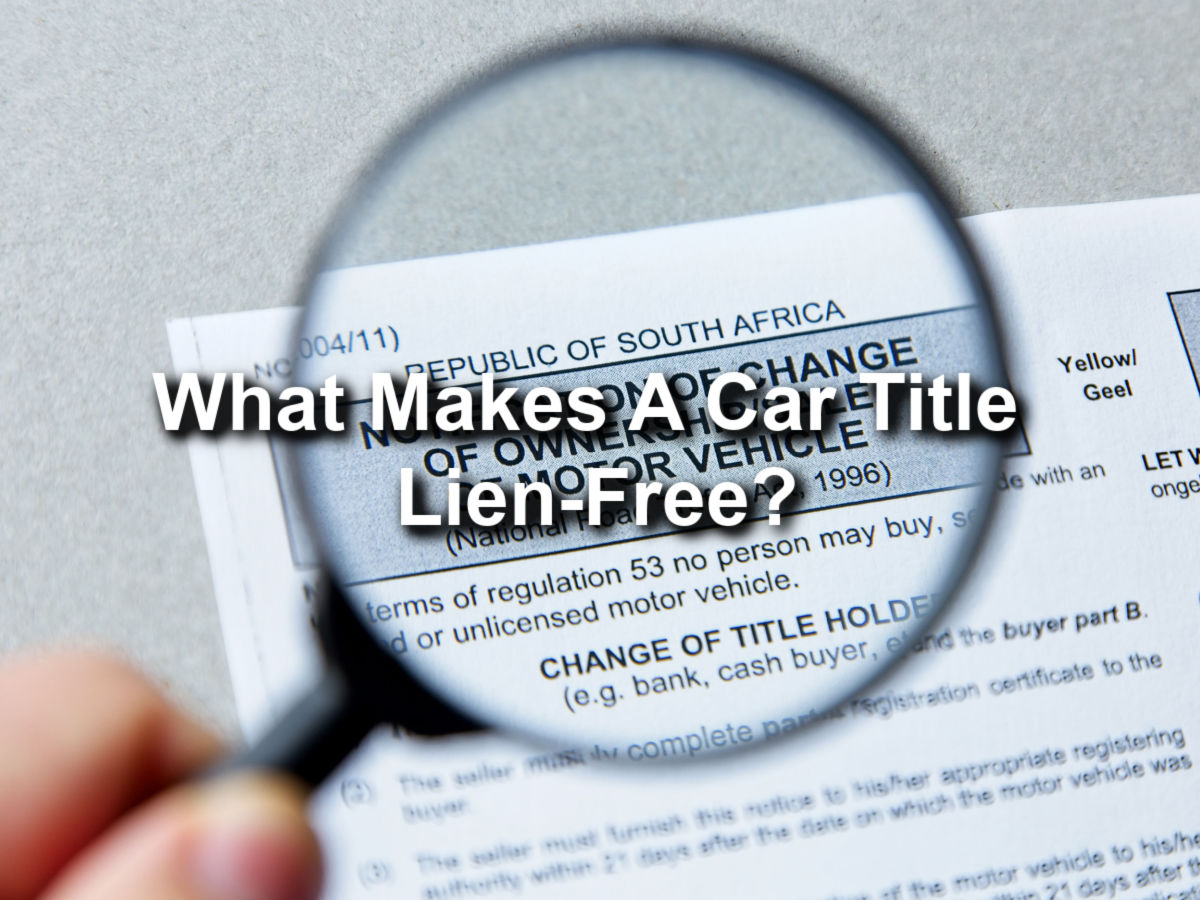 How To Tell If You Have A Lien?
Believe it or not, liens can go undetected on your car title. You should be able to tell quite easily by examining your car title to see if the lienholder is listed. Alternatively, you can use the DMV database to search your car by its VIN, telling you if there's any history of liens (or a current one) on your title.
Lastly, you can obtain a vehicle history report, which will record liens both present and past on the title.
Why Is A Lien-Free Title So Important?
The title of your vehicle serves as collateral when taking out a title loan. To secure the loan and incentivize borrowers to repay, a lien must be placed on the title. If there's already a lien on the car title, then the value of the car title as collateral is nullified.
Since the lender will only require a lien-free title to secure your loan, and not the vehicle itself, you can continue using the vehicle as you were before. Just make sure you adhere to the repayment schedule outlined in the agreement and your title will be returned to you once the last payment has been made.
How You Can Remove A Lien From Your Car Title
The process for removing a lien from your title looks a little different depending on the entity you owe, but in general, you can follow these steps:
Pay the party to whom you owe money.
Ask the lienholder to remove the lien.
Wait 5 business days for them to sign the lien over to you and provide the lien release form.
Apply for a duplicate title at your local DMV office.
Once you've had the lien removed, you're all set to apply for a title loan! As an added note, you can't apply for a title loan if the vehicle title isn't in your name. To change it, head to the DMV to have the title transferred to you before you try to take out a title loan.
How To Apply For A Title Loan
With Utah Title Loans, Inc. the loan process is simple and streamlined, setting you up to get a loan in as little as 30 minutes. To apply, you'll need the following items:
Your driver's license or state-issued ID
Your lien-free car title
Your car itself for inspection
First, complete the online form and wait for a representative to give you a call. On the phone, you can expect them to review the loan process and your obligations in repaying the loan. You'll also be able to schedule an appointment somewhere that works best for you or at one of their conveniently located stores around the state.
Either way, bring along your necessary items for the associate to verify and your vehicle for a quick inspection. Once done, you'll know if you're approved for the title loan. Should you be approved, you'll get the cash you need on the same day or the following business day.
You can still apply for the loan even if you have poor credit. While your approval is not entirely based on credit, your score and the condition of your vehicle will affect your eligibility and the amount you could qualify for.
Submit Your Online Inquiry Today!
Finding the right car title loan online for an emergency isn't always easy, and there are some important requirements you'll have to meet to get one, including having a lien-free title. Thankfully, you can readily check if you have liens on your car's title and repay them accordingly before you try to take out a title loan.
If a title loan online is the right financial resource for you, then submit the online inquiry form through Utah Title Loans, Inc. to be connected with a representative today!
Note: The content provided in this article is only for informational purposes, and you should contact your financial advisor about your specific financial situation.